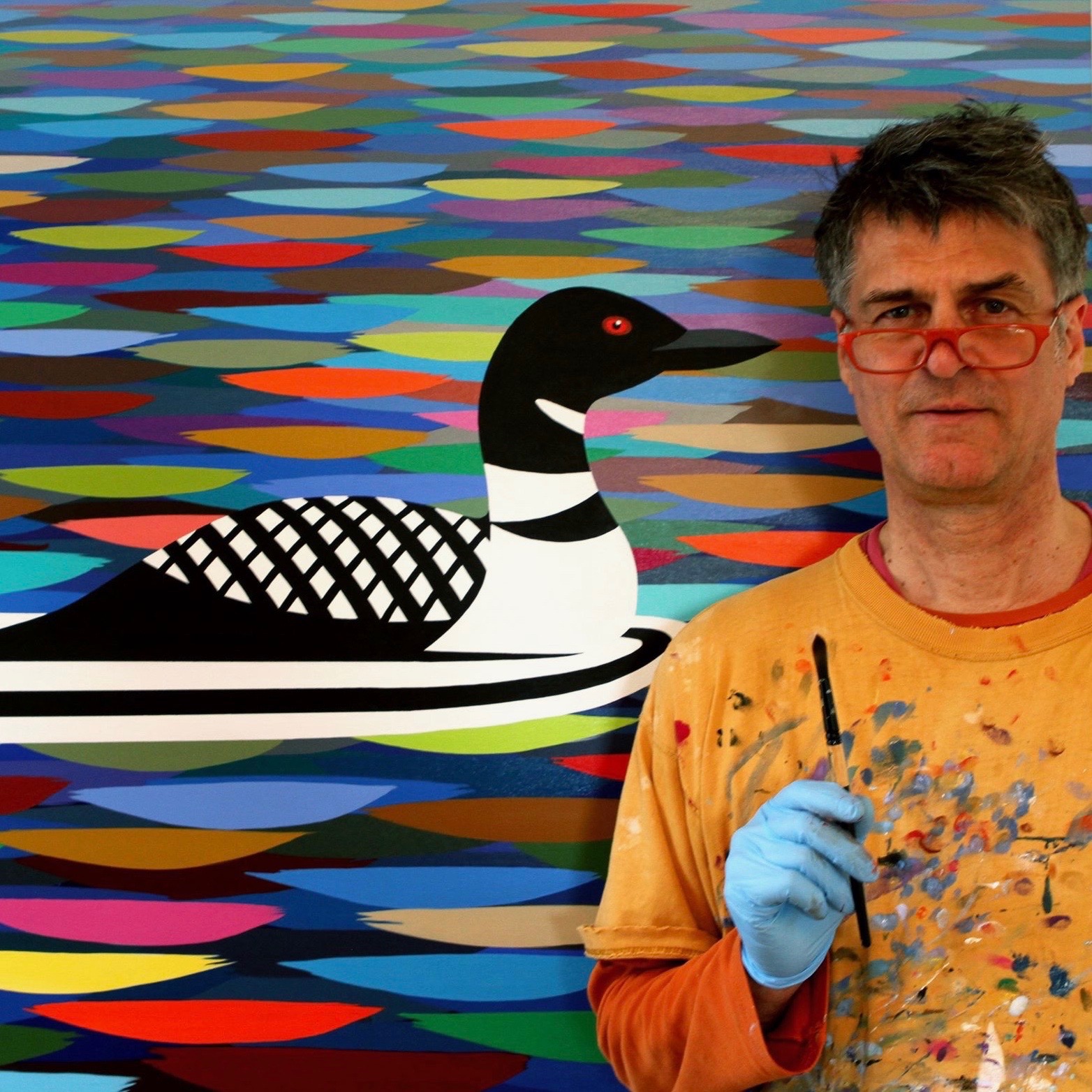 Kurt Swinghammer is a multi-discipline artist based in Toronto, Canada. While in his teens he exhibited paintings at a gallery in Niagara Falls, won the Art Award in his final year at high school, and studied at the Ontario College of Art and Design. After moving permanently to Toronto in the mid 80's, Kurt became identified with the vibrant Queen Street West scene through his club murals, album cover and T-shirt designs, and art direction for music videos. He has released 12 albums of original songs, worked extensively as a session guitarist on albums by artists including Ani DiFranco and Great Big Sea, racked up over a hundred credits as a film and TV composer including David Suzuki's The Nature of Things, and performed live on numerous CBC Radio broadcasts as well as international concerts.
Notable projects include set design for the award winning Joni Mitchell: Intimate and Interactive on MuchMusic, doing a custom paint job on the Zamboni at Maple Leaf Gardens, creating animated music videos for Buffy Sainte-Marie and Bruce Cockburn, designing a set for contemporary dancer Peggy Baker, appearing on the live Lillith Fair album, art directing the landmark hip-hop video Let Your Backbone Slide by Maestro Fresh Wes, and designing the store bag for the Sam The Record Man chain.
About the art work
"Over the years I've explored a wide variety of styles, mediums and techniques while balancing commercial and personal fine art projects. My current work employs a labour intensive approach of applying thin, flat layers of liquid acrylic and creating a sense of spatial depth through the use of carefully mixed colours. The average painting takes me 7 to 8 days to complete. I utilize masking techniques that connect to the aesthetic of hard edge abstraction and graphic design popular in the 60's - an early inspiration for me. As a youngster I was also very moved by the work of Tom Thomson and the Group of Seven, and I reflect similar subject matter with a modern sensibility.
The print editions start with an original painting imported into the digital realm by stitching together dozens of individual scans. I digitally "repaint" the piece to remove all artifacts of light and texture so that the final image is a flat graphic, and not simply a photo-based reproduction of a painting. This process achieves a result more akin to a silkscreen or lithograph, but with an incredibly complex range of saturated colours unachievable through those traditional printing techniques. By using these additional manual steps my paintings translate to this medium exceptionally well, and I'm delighted with the results."
The prints are produced at GSQ Giclee Boutique in Toronto using high quality acid- free paper and archival inks. Each is personally inspected, hand numbered and signed, and safely stored in a mailing tube.
Kurt Swinghammer is represented in the permanent collection of the Canada Council Art Bank.
He sells his work privately, happily accepts commissions, and studio visits can be arranged if you'd like to see paintings in person.